The Republic County Community Foundation awarded $80,000 to area organizations during its fall grant cycle. Projects were funded through the Dane G. Hansen Community Grant Fund, Kansas Health Foundation Fund for Republic County, North Central Kansas Health Care Foundation Fund and Republic County Health Fund.
Recipients include:
NCK Health Care Foundation, $24,703 to professionally conduct a nationwide search to recruit one family practice physician to Republic County.
Courtland Community Arts Council, $12,000 for the purchase and installation of an electronic community events sign above the entrance to the Courtland Arts Center.
City of Republic, $10,000 for a backup generator for the City of Republic sewer pump.
Courtland Pride Club, $10,000 to complete Phase Two of a park improvement project, which includes completing the picnic shelter, resealing cracks on the court and purchasing picnic tables.
USD 426 – Pike Valley, $5,000 to purchase new whiteboards for elementary classrooms.
Belleville Main Street, $4,500 to help expand the Distinguished Young Women Program.
City of Scandia, $3,400 for safety upgrades at the two bus stops within city limits.
USD 426 – Pike Valley, $3,000, to purchase a kiln for the art department.
USD 109, $2,500 to bring Russell sculptor Dustin Poche into the art room for a weeklong in-house workshop for students.
USD 109, $1,600 to upgrade the current WeatherBug Achieve curriculum to the new WeatherSTEM program from Earth Networks.
Belleville Main Street, $1,000 to purchase colorful canvas pole banners for downtown Belleville.
USD 426 – Pike Valley, $1,000 to update old library shelving.
Smoky Hills Public Television, $250 for the Literacy Leadership for Republic County program.
USD 109, $240 to purchase books for reading groups in the fourth and fifth grade special education classroom.
The foundation's next grant cycle opens on February 15, with online applications due April 15, 2019. For more information, visit http://republiccountycf.org/search-apply-for-a-grant/.
---
This Nebraska Community Foundation example resonates with the same purpose of the Republic County Community Foundation and our affiliate Greater Salina Community Foundation.
Why Keep 5 in Kansas
By the year 2020, $79 billion will be transferred from one Kansas generation to the next.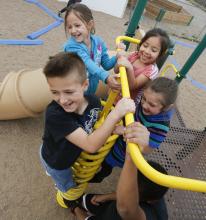 Think about what matters to you. Perhaps it's the schools your children attend, or the hospital where you get your care. It could be the park where your grandchildren love to play, or a local charity that's a big part of your life.
What would you do to make sure the things that matter to you today have a secure future, long after you're gone? How can you help ensure that future generations will benefit from the wonderful resources in your community?
We have an opportunity in Kansas to turn our hopes for the future into reality! Our state is currently experiencing an unprecedented transfer of wealth. Studies show that by 2020, $79 billion will change hands from one generation to the next in Kansas. If we capture a portion of this wealth — even just 5% — by setting up endowments through community foundations, we could provide a permanent source of funding for local organizations and causes that will greatly improve the lives of Kansans.
We all want to see our state continue to grow and succeed. With a little planning, we can make a difference for our communities, our families, our friends and our neighbors, forever.
Please explore the website to find out more about the Keep 5 opportunity, and how you can play a vital role in the future of your community.
REPUBLIC COUNTY
2010-2019  Estimated Transfer of Wealth
$137,908,397
 5% Capture Goal
$6,895,420
2010-2064 Estimated Transfer of Wealth
$696,690,915
5% Capture Goal
$34,834,546