By Deb Hadachek – Telescope News
Subscribe or read online www.thebellevilletelescope.com
Education.
Relationships.
Local producers say those may be the two biggest benefits to the surge of interest in consumers who want to buy food directly from the farm.
"This year has been a lesson to a lot of consumers on how food production works," says Jed Strnad, Cuba.
Strnad and his wife, Tranda, are in the teaching business. He is the Republic County USD 109 agriculture education instructor; she teaches art. Their business, WishList Farm, is almost an accidental sideline to their careers.
WishList specializes in chickens, eggs, homemade jams and jellies and whatever garden produce or fruit happens to be in season on their farmstead west of Cuba. Jed laughs that his job is to hoe the garden; Tranda uses her artistic skills to package Kansas gift baskets of food products for sale online or at craft shows. Their children, Charlie and Rooks, are the chicken wranglers and the egg money they collect goes into their savings accounts.
But when Covid-19 hit, WishList discovered their farm-grown eggs were a precious commodity.
"We just try to have enough eggs for ourselves and four or five loyal customers," Jed says. "When Covid started, the grocery stores were out of eggs and we got hit with a demand from people who wanted eggs."
At the urging of Republic County Economic Development director Luke Mahin, WishList Farms added it's name to a Facebook Page "Shop Kansas Farms" started this spring by Rick McNary, Potwin, KS. McNary, a pastor, writer, photographer and global hunger expert, started the page to see if there was a way to connect local producers with consumers. In four weeks, the page went from zero subscribers to more than 130,000.
The Strnads were slow to join the group.
"We didn't want to be inundated with orders," says Jed. "We don't have a huge inventory."
While orders didn't skyrocket, notice of their WishList Farm Facebook page did.
"Our subscribers exploded in 24 hours," he said. "We went from 150 followers to 750. We'd get messages from people that said 'I didn't know there was a Cuba Kansas'."
Their experience is similar to other niche ag businesses in Republic County.
"Overnight we had 171 shares of our Facebook post that the asparagus was ready," says Kathy Kuhn, who operates Depot Market at Courtland with her husband, Dan. "That's a huge number when you think about how many friends each person who shares your post might have.
"We picked up two vendors who asked to sell their products at the Depot," she said. "I think long term it is going to help our business."
Education Focus
The Strnads said they started to promote products on Facebook in 2018. When their teaching jobs suddenly switched to online learning in March this year, they found more opportunities to reach not just students, but adults.
"We created the Facebook page as an educational tool to show what we were doing in the garden or what we were picking from the fruit trees," Jed said. A more recent post educates consumers on the parts of a whole chicken, or how much freezer space is necessary for frozen chickens.
"Do you know where your food comes from?" one WishList post asks.
What the Strnads don't grow on their own farm, they source from friends around the area or state. They have ideas for other ways to promote the farm: farm yoga classes, or Air B&B rooms where guests can come help with the work.
"Right now, we're happy with where we're at with our careers and children, and can't do a lot more," says Tranda. 'I want to spend the summers with my kids."
Where's The Beef?
Promoting local ag products is just one aspect of work that Luke Mahin does through the RCED. He works with the North Central Kansas Food Coalition, which recently recognized Republic County for its development of a map of home-based producers.
The project isn't just aimed to connect consumers with producers, but to provide education and possible growth industries from those cottage businesses, Mahin says.
"You can't manage what you don't measure," he says. For instance, if someone was interested in investing in a locker plant in Republic County, they need data on the type of businesses selling beef and the number of animals they could expect to process, he says.
C&S Farms, Belleville, (www.csfarmsllc.com) operated by Kurt and Kelli Childs and Clay and Jaci Siemsen and their families saw orders for their grassfed beef "explode" within a two to three week period when retail prices for beef in the grocery store skyrocketed.
"We probably could have sold 10 more head this spring," says Kurt. "That's a lot of meat." The business normally processes 22 to 25 head a year. Since they process at both a state-inspected locker plant at Clay Center, Kans., and a USDA-inspected plant in Diller, Nebr., they can ship meat throughout the US.
The business sold out their inventory in two weeks. They already had butcher dates scheduled at the locker plants, which allowed them to restock their freezers, Kurt says. Locker plants are currently booked for processing into 2021.
"You can't just ramp up production of beef like pork or chicken," he says. "(The demand) is a great problem to have."
Kurt says most of their business to this point has been regional and through orders in cooperation with the C&C High Tunnels CSA at Scandia. They can pack meat in insulated boxes and ship overnight in the Midwest to customers in Wichita and Omaha and Kansas City.
They hope to educate both urban consumers–and local customers–about the beef industry.
"We started this business to try to encourage more people to have a relationship with the people who grow their food–so they know the farmers and where their food comes from," he says.
Variety Of Business
The NCK Food Council is a 12-county coalition, and the largest organized coalition to serve producers in the US.
"We don't know how many more people in this region are direct-marketing their products to customers," Mahin says.
"We've been in such a cheap food economy for so long that people don't understand what it costs and what it actually takes to grow food," he says. "We try to show why these products are appropriately priced."
Mahin said that it's interesting that like many direct-market producers, operators in Republic County all do business a little differently. C&S caters to an urban market, he notes. The Depot Maket at Courtland supplies grocery stores on a large scale and has a local farmers market. C&C High Tunnels at Scandia operates a Community Supported Agriculture (CSA) that delivers orders to customers each week. This year's subscriptions sold out. Warren Sutton at Norway grows vegetables for the wholesale market.
Other producers currently on the map are Shrader Farms, Norway (fruits, vegetables, canned items); Marble Road Farm, Belleville (beef, honey, poultry); Free Day Popcorn, Byron (wholesale and retail popcorn) and Baxa Veggies, Belleville, which is an honor-system market. Customers can drop by the Baxa home at 1105 27th ST Belleville, select their produce, and leave money in the lockbox.
Jon Baxa said their business also got a boost in views from the Shop Kansas Farms and NCK Food Council listings, but he prefers to visit with customers face-to-face at his home or a farmer's market than to grow an online business. Baxa is also a math teacher in Republic County USD 109.
"To me it's about the relationship," he says. "That people can understand the work that goes into raising the food they eat."
That is also McNary's goal in the Shop Kansas Farms movement.
"A local and regional community is being built around agriculture," he says in a post. "Consumers are learning real-time about how agriculture works…Rural revitalization is taking place. People want to buy local.
"In the previous food chain, the average calorie traveled 1,500 miles to reach our plates. Now, people are purchasing food from as close as their next-door neighbor. This is a movement. Already, these types of "Shop Our State Farms" are springing up around America as people follow this model. I believe this movement will continue long after the COVID-19 crisis."
###
North Central Kansas Local Foods Directory
The North Central Kansas Food Council is currently developing a regional directory of growers/producers to highlight local businesses and better connect local food products and consumers. This includes direct sale, CSA, local markets, and processors.
If you are interested in promoting your business, please complete the short form linked below. For questions, please contact nckfc@nckcn.com.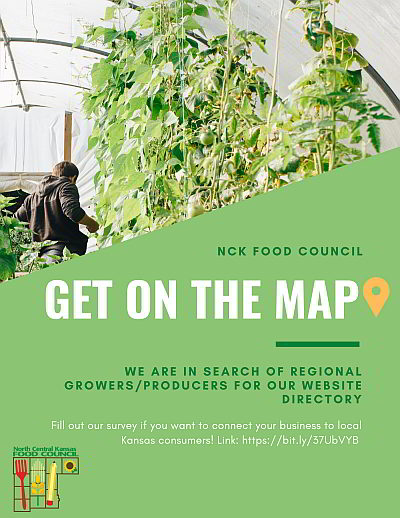 Click to get listed in the NCK Local Foods Directory
Form link – https://bit.ly/37UbVYB