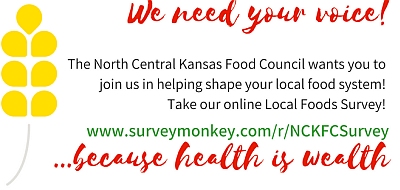 A Community Food Survey sponsored by the North Central Kansas Food Council will end July 31.
There is still time for those currently living in the 12-county region (including the counties of Clay, Cloud, Dickinson, Ellsworth, Jewell, Lincoln, Marshall, Mitchell, Ottawa, Republic, Saline, and Washington) to participate. The survey is available online at www.surveymonkey.com/r/NCKFCSurvey.
Paper copies of the survey are also available in public places in many cities in the region. Common locations for paper surveys include city halls, courthouses, libraries, and county extension offices.
According to NCRPC Assistant Director Emily Benedick, the survey will help determine local food trends in consumption, availability of fresh food choices, and the current food system needs of each county and the region. "We hope residents in the region will take a few minutes to complete the survey either online or in their communities and ultimately help shape their local food system," Benedick said.
The survey is part of a broader regional food system assessment already in progress for the region. For more information about the NCK Food Council or the survey, visit www.ncrpc.org/nckfoodcouncil or find them on Facebook.
This article appeared in the July 2018 NCRPC Newsletter.
SCROLL DOWN IN THE SURVEY WINDOW TO BEGIN THE SURVEY
OR CLICK HERE www.surveymonkey.com/r/NCKFCSurvey
Create your own user feedback survey