Service Characteristics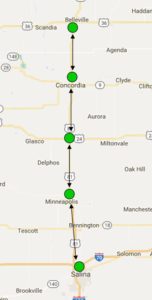 The bus service has three bi-directional trips each day, Monday through Friday, with stops along Highway 81/135 in Belleville, Concordia, Beloit (at the Highway 24/Highway 81 junction), Minneapolis, and Salina.  There are two identifiable buses with three drivers along the route each day.   An additional 4th route could be added if needed.
Transportation providers in the region will run feeder routes that will bring passengers to and from the stops.  The proposed service area would include Republic, Jewell, Cloud, Mitchell, Ottawa, Lincoln and Saline counties.  Additional riders could be brought in from Washington, Clay, Smith and Osborne counties with additional coordination.  Passengers will come from many age groups and different socio-economic levels and need bus service for employment, medical appointments, social services, shopping, recreation and other needs.
On each trip, the driver is going to call Salina dispatch for the passengers that need additional transportation assistance when they get to Salina.  OCCK will provide Paratransit services to their destinations.  The passengers will call OCCK dispatch when they need to be picked up to meet the fixed route bus.  However, one of the Salina stops at the primary transfer point for CityGo, and the second at Walmart, we hope the majority of riders will use the Salina fixed route, CityGo.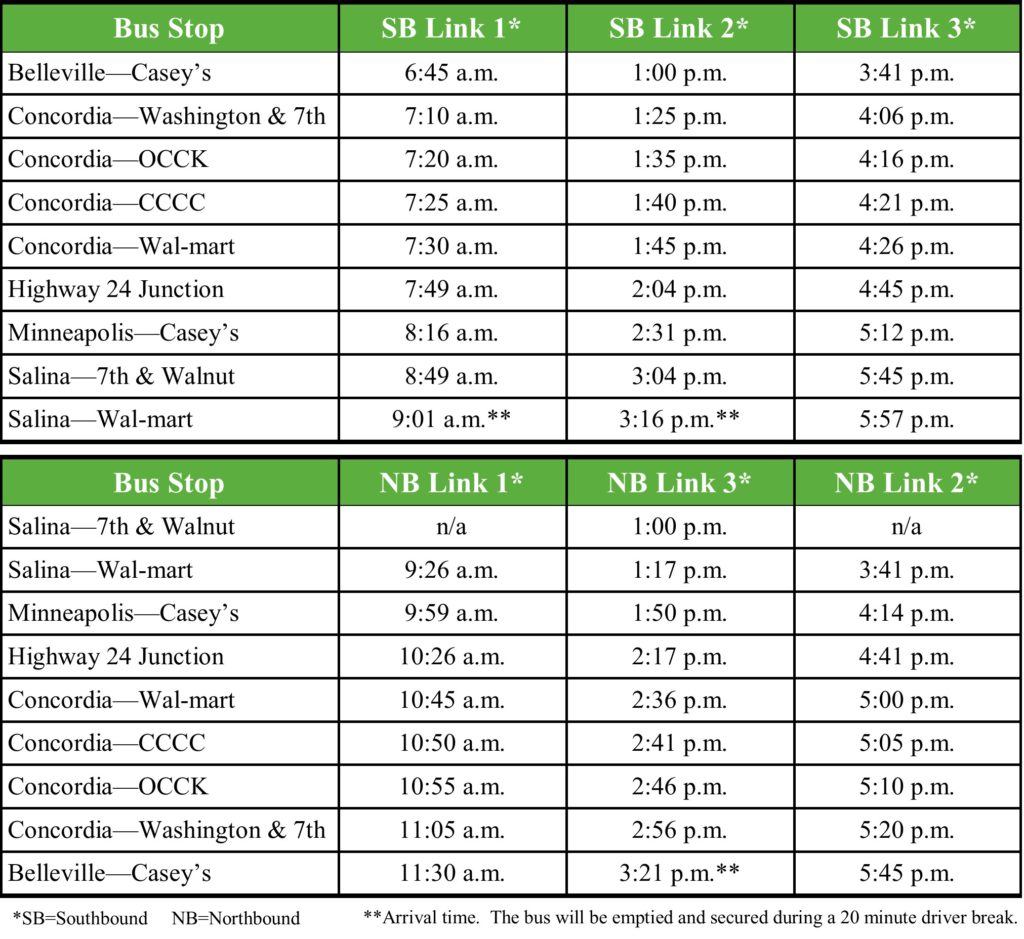 Fares
The one-way fares will be as follows:

Passengers will pay the exact fare to the fare box on the bus.  The driver will not make change.

Per Ride (Cash):  Varies per Fare Chart
6 Trip Ticket Strip (6 tickets worth $1.00 each):  $5.00
Punch Card (24 punches worth $1.00 each):  $20.00
Punch Card (48 punches): $40.00

A Salina CityGo bus pass will be included in the Salina fare (Make the Connection pass).
Locations for purchasing the ticket strips, punch cards and monthly passes are:

OCCK Transportation, 340 N. Santa Fe, Salina (cash, check or credit cards)
OCCK, Inc., 1710 W. Schilling, Salina (cash, check or credit cards)
Ottawa County Transportation, 817 Argyle, Minneapolis (cash or check)
Concordia Senior Center, 109 W. 7th, Concordia (cash or check)
or by mailing a check or money order payble to OCCK, Inc., PO Box Box 1160, Salina, KS  67402-1160 – please submit this Order Form with your payment
"We are really excited about starting the 81 Connection and this is one more step in making that happen," said Michelle Griffin, Mobility Manager for the region. "The goal of public transportation is to be efficient, affordable and effective. With this route, we hope to meet the needs of the citizens in north central Kansas who need to be able to travel from county to county for whatever reason."
For more information about the 81 Connection and Kansas Rides, visit www.ksrides.org. For more information about OCCK, Inc., visit www.occk.com. For more information about CityGo and OCCK Transportation, visit www.salinacitygo.com. Or, contact Claire Mullen, Mobility Manager (cmullen@occk.com), or the OCCK Transportation Center at 785-826-1583.